As the youngest of four siblings, I grew up in a family with loving, caring parents who did everything for us - their children. My father took me to Sunday school already when I was two years old. With his guitar under one arm and me under the other, he took us to Sunday school every sunday. I loved to hear all the stories about Jesus beeing childrens best Friend, and the story of the Good Samaritan, the Friend of the poor and the sick - such a loving Father remained my best friend the whole life through.

At the age of six I did my first solo performance at a Sunday school party in the Pentecostal church, my home church. I loved to sing and already in primary school I longed to sing to crowds of people - and to travel and testify about Jesus, my best Friend. The conviction of this deep desire made it a reality. A longing that became a conviction that became reality.

After my studies I got so many opportunities to sing, that they took all my time. It was campaigns, TV shows, song services, concerts in the Swedish lutheran Church as well as in different free churches, but also in profane contexts. The privilege of meeting thousands of people both in Sweden and in lots of other countries is nothing but God's grace - and that grace is enormous! It's fantastic to have been able to sing to so many people - people with the same needs that I heard of in Sunday School.

When I was little I had a teddybear (sw.nalle) named Ville.
Now I have a husband named Nille!
---
Cyndee Peters, a famous gospel singer, born in the USA. but since many years living in Sweden, visited my senior high school, "Hvitfeldtska gymnasiet" in Gothenburg, which I attended 1976-78. There and then began a proffessional relation that has been very precious to me. She invited me to sing together with her at several concerts and in TV shows, which was a fantastic experience.
Here we are in Stockhom Concert Hall just before the concert "Black People's Music". Cyndee is a wonderful, warmhearted person, who has inspired thousands of choral singers all over our country.


The 70:ties - the era of huge glasses!
---
Another teamwork that has meant a great deal to me is the "New Life" campaigns, where I worked together with the itinerant evangelist of the swedish covenant church Jan Erixon.
Between the years 1983-94 we participated in 3-5 weeks long campaigns with wonderful revival meetings. The role as a soloist completing a revival preaching is something I really got on very well with. We had the joy of seeing many people commit their lives to Jesus Christ during the campaigns.

Here we look through the tonight's program - me sucking a throat pastille!
---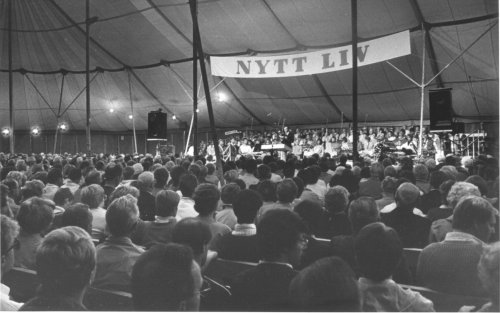 This is the way it often looked - a crowded tent church! Jan preaches and I "tune in" the message to be prepared with a suitable song.
---
| | |
| --- | --- |
| From the left: Jan Sparring, Viktor Klimenko, Marta Svensson and the TV concert host Hagge Geigert. The concert also featured Goran Stenlund, Lars Morlid, The Ibra Choir , the groups "Plus" and "Voice". | In 1986, 25 years after the death of Einar Ekberg, TV-Inter recorded a program at the "Cirkus" and musical arena in Stockholm, a program that featured Einar Ekbergs most popular songs. The program was a success, and it was a great privilege to be part of it. The songs performed were wonderfully arranged by Lennart Jernestrand and L-O Forsberg, among others. It was a joy to participate in the same program as the experienced oldtimers Goran Stenlund and Jan Sparring, to mention a few. The producer was Per Ostlin. The sound technician Bo G Lundberg gave the concert a really nice sound. |
---
An interesting trip was the one to Moscow in spring 1990 with "The Erik Foundation for Humanitary Help". Travelling with us were also, among others, Lena-Maria Klingvall and Roland Nelsson. The Erik Foundation and "The Soviet Charity & Health Foundation" launched a joint project where wheel chairs and crutches were donated to disabled people in Soviet. Also a fund for Armenia was raised.

Here I sing during the charity campaign in the big TV building in Moscow.
---
| | |
| --- | --- |
| From a Sunday morning sevice in "Malven Christian Assembly" in Scarborough. During this service I heard the song "Grace greater than our sin" for the first time. It touched my heart so. I took the song with me home and did my own recording of the song in 1992. . | During my one-month-tour in Canada in 1989-90, I had the privilege of singing in many churches, and also of performing in the Christian TV station "Huntley Street" singing both to the english and the italian speaking population in Canada. I travelled with one of all the wonderful pianists I've had the privilege to work with - Gittan Glans. We travelled mostly in the Toronto area. |
---
During making of the third and last season of the TV program "Minns du sången" (Homecoming program) in August of 1999. The encounter of so many singers and musicians was a very enriching experience, such a joyful and healing atmosphere to be in.
No doubt, these programes had a great impact in Sweden and its neighbour countries.
---